Rushden, a lovely town overflowing with culture and charm, also boasts a varied food scene that is sure to please even the most discriminating palette. From the lively ambiance of bustling eateries near Rushden Lakes to the authentic flavours of other regions, this town has it all. Rushden Estate Agents invites you to embark on a culinary tour, highlighting the top restaurants in Rushden that you must experience. So strap in and ready your taste buds for a delicious journey through five of the best dining establishments in the area!
Bill's Rushden Lakes: A Symphony of Flavors and Hospitality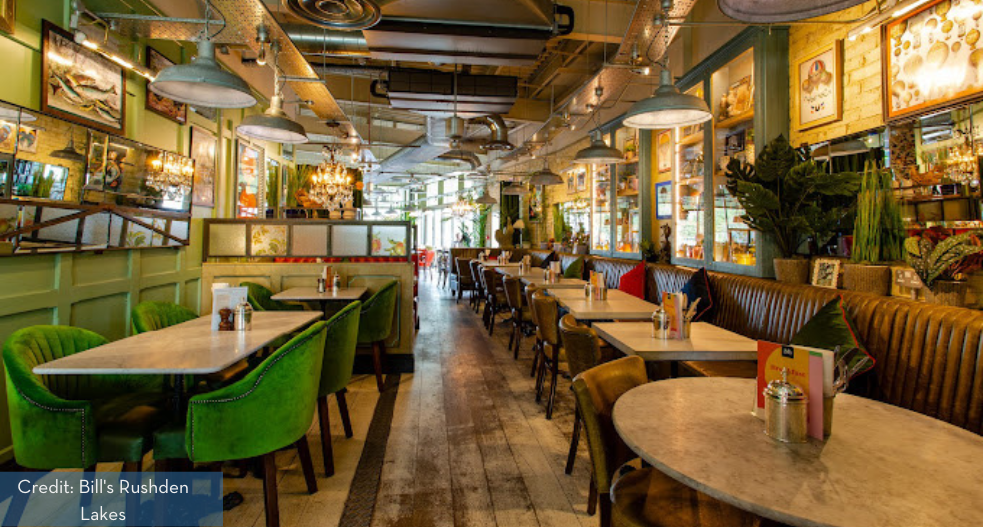 Bill's Rushden Lakes is a gourmet jewel in the heart of Rushden. This cosy restaurant provides a delectable dining experience by combining classic British flavours with innovative culinary touches. The ambiance is warm and inviting, making it ideal for a meal with friends or a romantic dinner date. Bill's serves up dishes that are as fresh as they are savoury, with a comprehensive menu that highlights the best of seasonal ingredients. Must-order items include their juicy Grilled Chicken and the fan-favorite Bill's Flower Pot dessert, which provides a unique and delectable ending to your meal. Whether you're a native or just passing through, Bill's Rushden Lakes is a must-stop for authentic British friendliness and delectable cuisine.
Location: Lakes Shopping Centre, The Boardwalk, Rushden NN10 6FA
Wagamama Rushden Lakes: A Journey Through Authentic Asian Flavors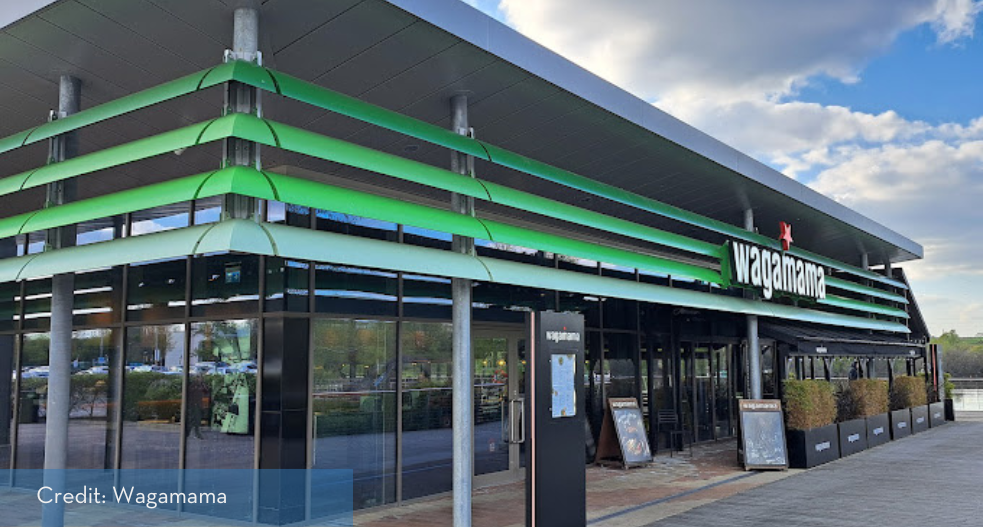 Wagamama Rushden Lakes offers a gastronomic trip unlike any other, with vivid flavours and Asian culinary traditions blending perfectly. This lively restaurant is known for its inventive take on Japanese-inspired dishes, with a menu filled with freshness and flair. Each item, from the aromatic bowls of Ramen to the expertly seasoned Donburi, is a work of art in terms of taste and texture.
The open kitchen design and community seating create a dynamic ambiance, giving each visit a unique and exciting dining experience. The use of fresh ingredients and traditional cooking techniques demonstrates Wagamama's commitment to quality and authenticity.
Wagamama Rushden Lakes is the place to go for an explosion of flavour and a bit of Asian culinary enchantment. Dive into a world of exquisite tastes and leave with your cravings satisfied and your palate invigorated.
Location: Lakes Shopping Centre, Rushden NN10 6FH
Pizzeria Venezia: Savor the Authentic Tastes of Italy in Rushden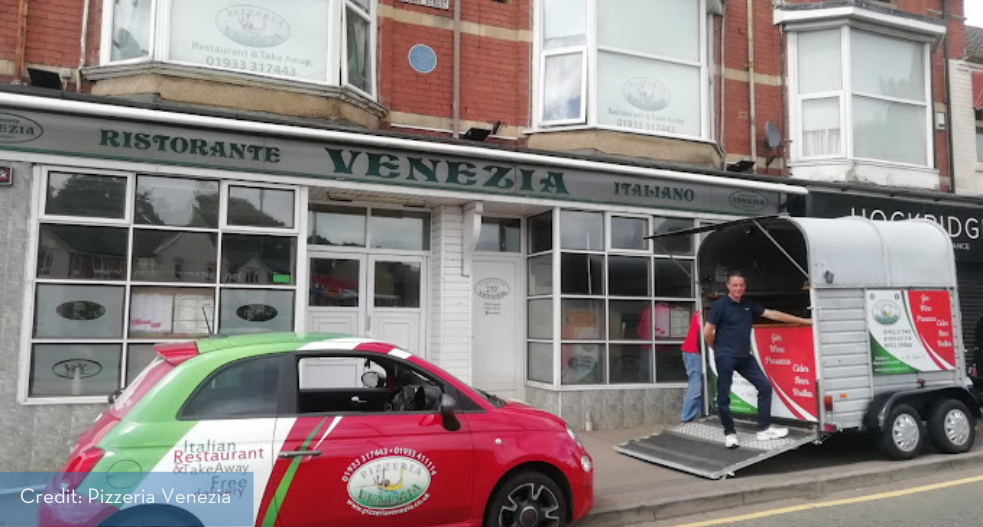 Step into Pizzeria Venezia and you'll be transported directly to the heart of Italy. This lovely Rushden restaurant preserves the essence of Italian dining by delivering a feast of authentic flavours. The menu is a beautiful exhibition of classic Italian dishes, from flawlessly baked pizzas with crunchy crusts and tasty toppings to soothing and superb pasta dishes. Pizzeria Venezia's ambiance is warm and friendly, making it ideal for a romantic evening or a cheerful family gathering. Each dish is meticulously prepared, ensuring that every bite is a flavour of Italy. Customers rave about their signature Margherita pizza and savoury Lasagna.
Pizzeria Venezia stands out as a good choice for an authentic Italian dining experience in Rushden, guaranteeing delicious food, a cosy setting, and a kind welcome.
Location: 28, 30 Church St, Rushden NN10 9YT
Rokka Turkish Mediterranean Bar & Grill: A Rushden Feast of Eastern Delights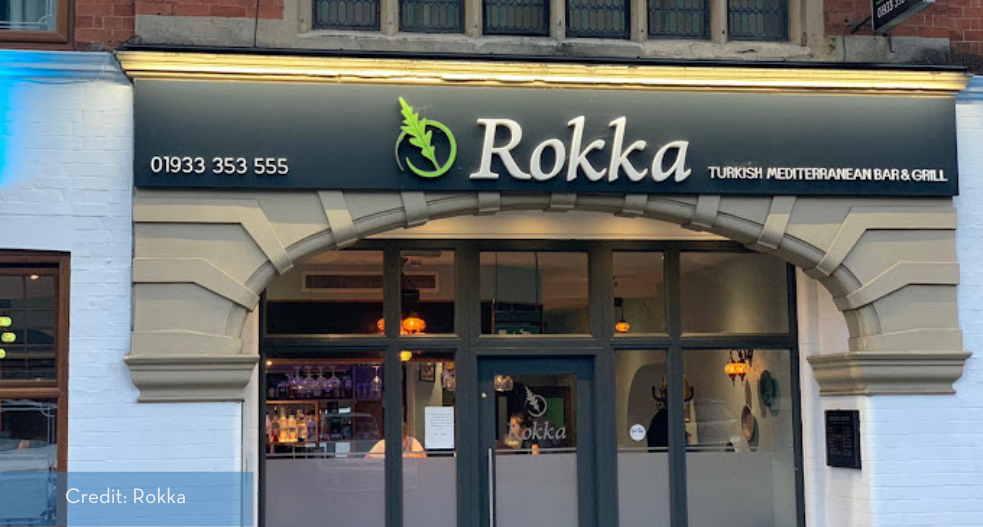 Rokka Turkish Mediterranean Bar & Grill is a sensory feast that brings the rich flavours of Turkish and Mediterranean cuisines to life. This bustling cafe in the middle of Rushden offers a one-of-a-kind eating experience full with aromatic spices, colourful food, and a warm, welcoming ambiance. The menu celebrates traditional cooking techniques, with grilled meats, fresh fish, and wonderful vegetarian options. The Mixed Grill is a carnivore's dream, and the Falafel Salad is a vegetarian favourite. Each dish is created with care and passion, resulting in a gourmet experience unlike any other.
The Rokka Turkish Mediterranean Bar & Grill stands out as a must-visit place in Rushden for people wishing to enjoy the robust and savoury flavours of Turkish and Mediterranean food. Indulge your senses, savour the flavours, and enjoy a memorable as well as tasty dining experience.
Location: 24 High St S, Rushden NN10 0QX
Cafe Bangla: A Culinary Journey Through Authentic Bengali and Indian Flavors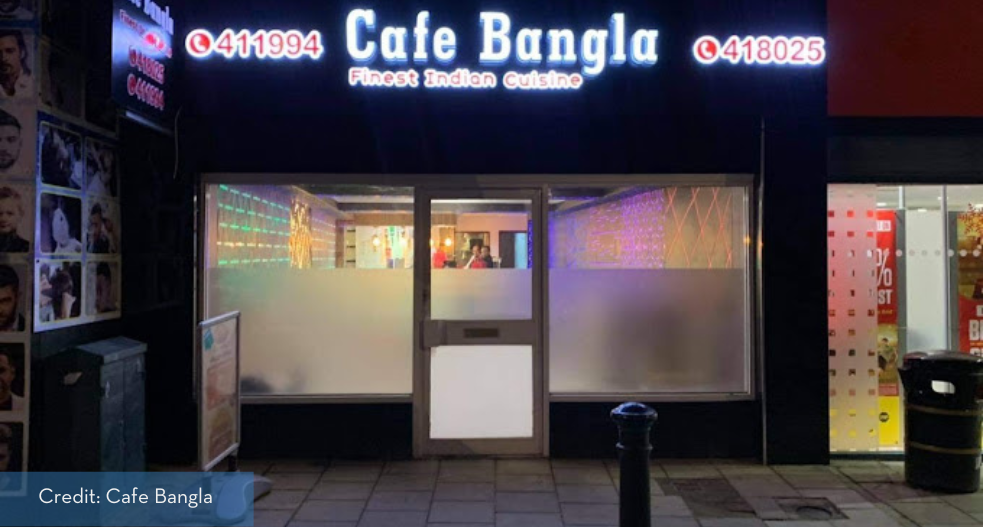 Cafe Bangla, Rushden's hidden gem for authentic Bengali and Indian cuisine, invites you on a delectable journey. This inviting restaurant encourages guests to explore the rich tapestry of South Asian flavours, presenting a tantalising choice of traditional cuisine. Each dish is a balanced blend of aromatic spices and fresh ingredients, delivering a real and pleasurable dining experience. Popular dishes such as the luscious Chicken Tikka Masala and the delicious Vegetable Biryani are must-tries that precisely capture the spirit of Bengali cookery. Cafe Bangla's warm and inviting ambiance, paired with excellent service, makes every meal feel like a feast at home.
Whether you're a fan of fiery curries or prefer milder, aromatic flavors, Cafe Bangla caters to all taste preferences, ensuring a memorable culinary journey right in the heart of Rushden.
Discover the authentic tastes of Bengal and India at Cafe Bangla – your passport to a world of spice and flavor.
Location: 86 High St, Rushden NN10 0PQ
Final Takeaway
Rushden's culinary scene is as diverse as it is excellent, showcasing a variety of dining alternatives that cater to every taste and inclination. As one of the top restaurants in Rushden, Bill's Rushden Lakes offers delightful British cuisine, while Wagamama serves up flavorful Japanese dishes. Pizzeria Venezia brings authentic Italian flavors to the table, Rokka provides a taste of Turkish and Mediterranean delights, and Cafe Bangla specializes in Bengali and Indian cuisine. Each of these wonderful restaurants contributes to Rushden's reputation for diverse and high-quality dining options. So, embark on a culinary adventure in Rushden and savour the unique and delicious experiences that these top restaurants have to offer.
Meanwhile, if you are looking for a property to buy or rent in Rushden, or if you have a property to sell or let, why not give us, the local estate agents in Rushden, a call at 01933 316 131 or email info.rushden@primechoiceproperties.co.uk? We are here to assist you with all your property needs!